Archived
You are viewing outdated content. This information may no longer be accurate or relevant and is provided for research or recordkeeping purposes only.
New Therapies for Hepatitis C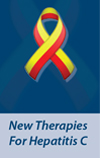 This brochure is a guide to the new hepatitis C drugs recently approved by the FDA: boceprevir and telaprevir. It is intended for patients who are considering taking these drugs, and includes information on how the drugs work, how they should be taken, what the common side effects are, and questions to discuss with providers.