Hepatitis C and Alcohol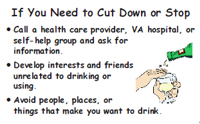 The PDF contains 10 double-sided wallet cards, which can be printed from one sheet, and includes guides for print margins and cutting. The card gives the following details:
Side one:
If You Need to Cut Down or Stop
Call a health care provider, VA hospital, or self-help group and ask for information.
Develop interests and friends unrelated to drinking or using.
Avoid people, places, or things that make you want to drink.
Side two:
Hepatitis C and Alcohol
Alcohol can damage your liver.
The combination of hepatitis C and alcohol can be even more damaging to your liver.
If you have hepatitis C the best choice is not to drink.
Talk to your health provider to learn more.