Publications and Products
Ways You CAN Get Hepatitis C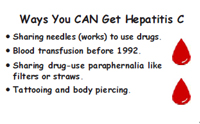 The PDF contains 10 double-sided wallet cards, which can be printed from one sheet, and includes guides for print margins and cutting. The card gives the following details:
Side one:
Ways You CAN Get Hepatitis C
Sharing needles (works) to use drugs.
Blood transfusion before 1992.
Sharing drug-use paraphernalia like filters or straws.
Tattooing and body piercing.
Side two:
Ways You CAN Get Hepatitis C
Needle-stick accidents.
Getting someone else's blood inside you.
Sharing objects that might carry blood, like razors and toothbrushes.