Exercise Makes a Difference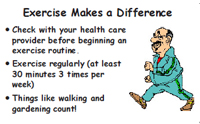 The PDF contains 10 double-sided wallet cards, which can be printed from one sheet, and includes guides for print margins and cutting. The card gives the following details:
Side one:
Exercise Makes a Difference
Check with your health care provider before beginning an exercise routine.
Exercise regularly (at least 30 minutes 3 times per week)
Things like walking and gardening count!
Side two:
Exercise Makes a Difference
Begin with short activities, like a 10-minute walk after dinner.
Find something you enjoy to stay active.
If you aren't already exercising, it's not too late to start.