Hepatitis B Virus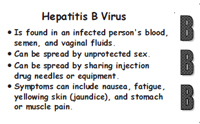 The PDF contains 10 double-sided wallet cards, which can be printed from one sheet, and includes guides for print margins and cutting. The card gives the following details:
Side one:
Hepatitis B virus
Is found in an infected person's stool.
Enters your body through your mouth.
Can be spread by:

Touching something contaminated, then putting your hands in your mouth.
Eating food or water that is contaminated--even if it looks clean.
Sexual contact with the anus.
Side two:
Symptoms can include nausea, diarrhea, stomach pain, and yellowing skin (jaundice).
Goes away in a few weeks or months.
Can be prevented with a vaccine.
Can be prevented by washing your hands before eating and after using the toilet.