Patient Education Wallet Cards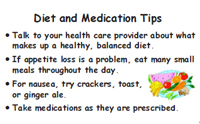 To print wallet cards from your computer:
Print the pages back-to-back, and cut along the indicated lines. It's helpful to print each topic on a different color of card stock. For best results, laminate the cards.
For detailed instructions with illustrations, see
How To Make Wallet Cards.
Wallet Cards: