Relaxation Tips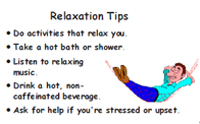 The PDF contains 10 double-sided wallet cards, which can be printed from one sheet, and includes guides for print margins and cutting. The card gives the following details:
Side one:
Relaxation Tips
Do activities that relax you.
Take a hot bath or shower
Listen to relaxing music.
Drink a hot, non-caffeinated beverage.
Ask for help if you're stressed or upset.
Side two:
Relaxation Tips
Practice relaxation exercises like deep breathing and progressive muscle relaxation.
Try Yoga and Tai Chi.
Learn to meditate.
Maintain a support network of family and friends who you can talk to.