Tips for Good Sleep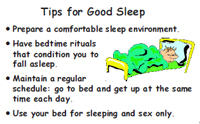 The PDF contains 10 double-sided wallet cards, which can be printed from one sheet, and includes guides for print margins and cutting. The card gives the following details:
Side one:
Tips for Good Sleep
Prepare a comfortable sleep environment.
Have bedtime rituals that condition you to fall asleep.
Maintain a regular schedule: go to bed and get up at the same time each day.
Use your bed for sleeping and sex only.
Side two:
Tips for Good Sleep
Avoid stimulants like caffeine and nicotine, especially closer than 8 hours to bedtime.
Stay away from alcohol and street drugs.
Exercise regularly, but not right before bed.
Don't take naps during the day.