Hepatitis C Testing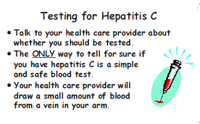 The PDF contains 10 double-sided wallet cards, which can be printed from one sheet, and includes guides for print margins and cutting. The card gives the following details:
Side one:
Testing for Hepatitis C
Talk to your health care provider about whether you should be tested.
The ONLY way to tell for sure if you have hepatitis C is a simple and safe blood test.
Your health care provider willdraw a small amount of blood from a vein in your arm.
Side two:
Hepatitis C Results
Accurate 6 months or more after exposure.
A positive test means you were exposed to the hepatitis C virus at some point.
Further tests can see if the virus is still in your blood right now. If it is, that means you have hepatitis C.