for

Health Care Providers
Therapy against Hepatitis C in Patients with Genotype 1 Infection
Figure 3. Boceprevir (BOC)/Peginterferon (PegIFN)/ribavirin (RBV)* algorithm for both treatment-naive and treatment-experienced patients with HCV genotype 1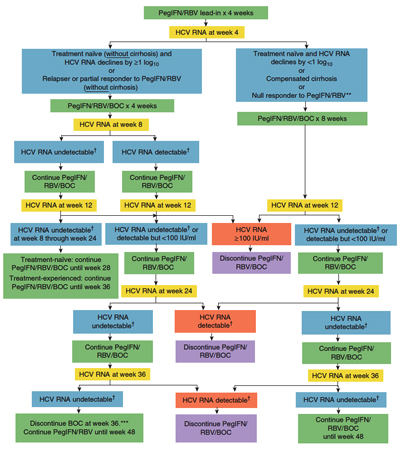 * PegIFN alfa-2a 180 mcg per week or alfa-2b 1.5 mcg/kg per week. RBV (in two divided doses) with food: <75 kg: 1,000 mg per day or = 75 kg: 1,200 mg per day; alternative weight-based RBV dosing: <65 kg: 800 mg per day, 65-85 kg: 1,000 mg per day, >85-105 kg: 1,200 mg per day, >105 kg: 1,400 mg per day. BOC 800 mg (four 200 mg capsules) orally every 8 h with food.

† A sensitive real-time quantitative HCV RNA assay with a lower limit of detection of <10-15 IU/ml should be used for decision-making to determine treatment duration with response-guided therapy (RGT).

** BOC was not studied in null responders; this population was excluded from the Phase 3 study of patients who had previously failed treatment. efficacy data and FDA labeling for this population is based solely on mathematical modeling.

*** Discontinuation of BOC at week 36 is supported by modeling, but was not directly studied in the clinical trials. Following a 4-week lead-in with PegIFN-RBV, the addition of BOC to Peg-RBV for 44 weeks achieved higher sustained virologic response (SVR) compared with 24 weeks in late responders (detectable HCV RNA at week 8) in the registration trials.