for

Health Care Providers
2: A case of HCC at late presentation: What are the controversies over screening HCV patients for HCC in order to detect early and treat?
Background
The patient is a 56-year-old African American man with HIV and hepatitis C virus (HCV) coinfection. He has had HIV infection for 15 years. The patient presented with a 2-week history of progressive cough and exertional dyspnea. In addition, he complained of worsening right upper quadrant abdominal pain of approximately 1 week's duration.
Past Medical and Social History
The patient had a longstanding history of nonadherence to his HIV medications. He was never seen before at the current facility and he was last seen at another VA facility 3 years earlier, with a CD4 count of 255 cells/µL and an HIV viral load of 12,300 copies/mL. He had been off antiretroviral therapy (ART) for more than 2 years. He had never had an evaluation of his HCV, presumably because of ongoing recreational drug use and chronic alcoholism.
Physical Examination
Vital signs: blood pressure--188/111; pulse--87; weight--158.8 lb; afebrile; appearing comfortable
HEENT (head, eyes, ears, nose, throat): no thrush
Neck: no lymphadenopathy, supple
Chest: clear to auscultation
Cardiac: normal heart sounds without murmurs
Abdomen: tenderness to moderate palpation in the right upper quadrant without rebound or guarding; palpation reveals slight enlargement of liver, spleen tip not palpable; midline surgical scar secondary to an old gunshot wound
Extremities: normal muscle bulk, tone, and 2+ pedal edema
Neurological: fully oriented, no deficits
Initial Laboratory Tests
Hemoglobin: 11.5 g/dL
Platelet count: 127,000 cells/µL
CO2: 18 mmol/L
Creatinine: 1.1 mg/dL
Albumin: 2.6 g/dL
Total bilirubin: 2.6 mg/dL
Aspartate aminotransferase (AST): 184 U/L
Alanine aminotransferase (ALT): 73 U/L
International normalized ratio (INR): 1.35 seconds
Ferritin level: 655.9 ng/mL
HCV: genotype 1
Initial Studies
Abdominal ultrasound: no major abnormalities; common bile duct 5.7 mm in diameter
Chest X ray: bilateral perihilar infiltrates consistent with Pneumocystis carinii pneumonia (PCP)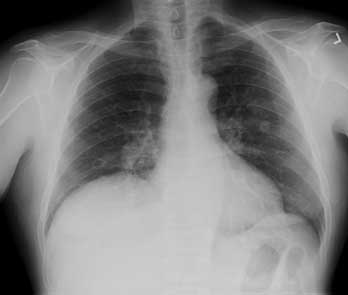 Course of Illness
The patient was hospitalized and started on empiric treatment for PCP with Bactrim. On day 3, the induced sputum tested negative for PCP.
On day 4 of hospitalization, the patient experienced sudden significant worsening of right upper quadrant pain. A computed tomography (CT) scan of the abdomen was obtained on day 7, revealing a large heterogeneous necrotic-appearing mass in the liver. The alpha-fetoprotein (AFP) level was measured at 46,456 ng/mL.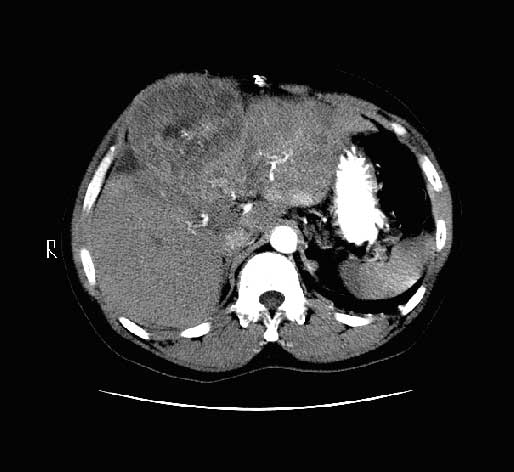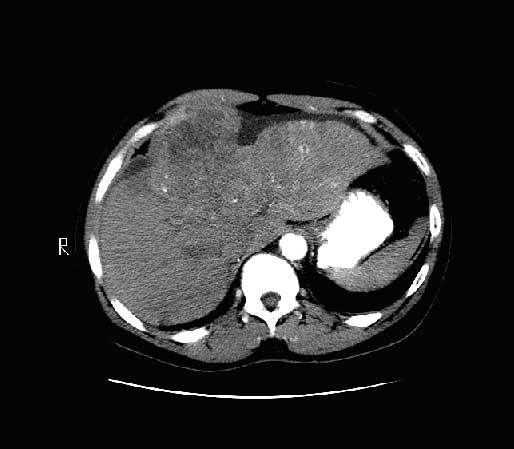 The patient's hemoglobin level began to drop and his clinical condition continued to worsen, with development of hypoxia and diffuse chest X-ray infiltrates and edema.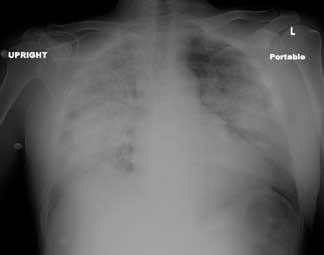 The patient became progressively acidotic and developed acute renal failure. On day 15, he was found dead in the bathroom.
Discussion
Question 1: For patients who are not eligible for HCV treatment, should staging of their liver disease be performed in order to identify those with cirrhosis so that they would receive hepatocellular carcinoma (HCC) screening?
Speaker 1: This case is certainly complex. The patient had no knowledge of even having hepatitis C cirrhosis, and he went into a facility at which he never had any care previously, presenting de novo with a very large HCC. Not only was it large, it was inhomogeneous with a probable necrotic center. After obtaining the CT scan, the medical team measured the AFP level, which was higher than 46,000 ng/mL.
Speaker 2: The question for discussion is whether a liver biopsy or an ultrasound exam should be used for staging liver disease in patients with hepatitis C in order to identify those who have cirrhosis, which in turn would help determine the patients who are in need of HCC screening?
Speaker 1: Yes, the liver disease should be staged to determine whether cirrhosis is present. Understanding the stage of liver disease is necessary because, if we learn that a patient has cirrhosis, we need to perform HCC screening as well as varices screening. Even if you are not going to treat the patient with HCV medications, you need to know the stage of disease. Is it at stage zero? Is it at stage I, II, or III? Or, is it at the cirrhotic stage? Knowing the stage will affect what you do subsequently. If the patient is cirrhotic, you will start surveillance for HCC and perform an endoscopy for varices.
Speaker 2: Many patients who have cirrhosis show signs of having it. If you think they probably have cirrhosis, would you still do a biopsy in that case?
Speaker 3: I agree with what has been said. But in a case such as this, the patient has a long history of nonadherence with his HIV medication regimens, noncompliance with medical follow-up, and ongoing high-risk behaviors. What would we be able to do for him if we were to identify cirrhosis or HCC?
Speaker 4: One point to remember is that you do not always need to do a biopsy to determine whether cirrhosis is present. If you already have a reason to suspect cirrhosis, ultrasound or a CT scan may be a good place to start. If that shows the typical and clear-cut changes of cirrhosis, then I don't think you need a biopsy at all. It is the people who do not have clear-cut cirrhosis and no findings of cirrhosis with imaging for whom a biopsy is really helpful.
Speaker 2: Of course, liver biopsy is not always a perfect test either. I am sure that many of us have seen patients with normal ultrasound results, except for some fatty infiltration perhaps and a biopsy with just grade 1 and stage zero, who present only a few years later with HCC or decompensating cirrhosis. I've had that happen.
Speaker 4: Biopsy can miss it, that's true. It's not a perfect test, but it's not bad.
Question 2: Is ultrasound sensitive for HCC screening? In patients with mild to moderate AFP elevation, should magnetic resonance imaging (MRI) or CT scanning be performed, or is ultrasound sufficient?
Speaker 2: In my opinion, ultrasound is not adequate for HCC screening. I know that the guidelines of the American Association for the Study of Liver Diseases (AASLD) recommend using ultrasound, but I never start with ultrasound. If I have a cirrhotic patient that I want to screen for HCC, I start with a triple-phase CT scan. If the result of the CT scan is clearly negative, I will follow up with an ultrasound screening 6 months later, and then alternate ultrasound and CT scan every 6 months thereafter. I'd like to hear what other people say about that. As for the question about patients with mild to moderate AFP elevations, I would go directly to the CT.
Speaker 4: Let's find out what the practices are for those among us. How many people are doing surveillance imaging once a year? How about twice a year? How about AFP? How many use AFP as part of your algorithm? How many people are using ultrasound or CT alone for surveillance? And how many are alternating CT and ultrasound? What about MRI?
Speaker 1: My concerns about using CT scan routinely are that it gives you radiation, it is more costly, and it uses contrast. At my institution, we use ultrasound from the beginning. The problem with ultrasound is that everything depends on the technician who is doing the procedure. You need to trust the ultrasonographer. The technology is totally operator dependent and that is a problem. Yes, I feel a little more comfortable with the accuracy of CT scan, but because of all of the issues, I follow the guidelines and monitor with ultrasound every 6 months. I used to measure AFP and scan with ultrasound every 6 months.
Speaker 2: With these patients, do you have an ultrasound radiologist in the room during the ultrasound procedure? In the majority of cases, it is probably the ultrasound technician, not the radiologist, who is conducting the routine screening.
Speaker 4: Looking at the guidelines, which are well written but lengthy, the minimum standard of care nowadays involves ultrasound scanning at least once a year. There is much debate as to whether AFP testing really adds value to a surveillance. We do monitor AFP, and in fact, I do it every 3 months. That's probably ridiculously compulsive, but it's not a very expensive test, and I like to see cirrhotic patients every 3 months anyway. We also alternate between ultrasound and CT scanning every 6 months, and I have concerns that the results of many studies examining ultrasound cannot be generalized. Most of the data discussing operator dependence are published by people who are already technically outstanding with ultrasound! So, I think there is a bias.
Another concern about the data on ultrasound for HCC surveillance is that many of the data worldwide involve people with hepatitis B, which ultrasound is actually quite good at detecting. With patients who do not have cirrhosis, ultrasound is a great test for picking up nodules in the middle of a nice, smooth liver. And, for patients with hepatitis B, they are getting ultrasound surveillance before developing cirrhosis. But, when you have a lumpy, bumpy cirrhotic liver, the problem is more difficult, and the radiologists all tell us that a CT scan is preferable, particularly a 3-phase study. That process does not use contrast initially. Rather, the contrast is injected and examined just when the arterial blood is reaching the tumors, and again when the portal vein is enhancing. That's important because the tumors get their blood supply primarily from the hepatic artery, whereas the liver gets two thirds of its blood from the portal vein. Thus, during the phase of arterial enhancement, the tumors tend to stand out against the background. This is the physiological characteristic that is detectable with CT, and it is what makes the CT sensitive. MRI is similar in that it involves the 3-phase contrast study as well.
Radiologists also tell me that the new CT scanners are so fast at generating these images that the real cost in terms of processing time and technician availability for CT scanning really is not much different from the cost of performing ultrasound, which actually takes a lot more time with the patient on the table and the ultrasonographer looking at the liver carefully. So, we look at real cost as opposed to the billing charge in the outside world, which is clearly very different.
Speaker 3: I want to inject a word of caution about using 3-phase contrast. It is imperative for the radiologist to know how to read these results because, depending on the point in the arterial phase, a perfusion artifact can make it appear that a patient's entire right lobe is filled with tumor. So, the radiologists must understand perfusion, and if they are perfusing, they must know how to interpret the lumpy, bumpy appearance.
Question 3: If AFP alone is used for screening, what serum level should indicate a need for further imaging?
Speaker 3: We have noted that AFP screening is only 60% sensitive and that virtually nobody relies solely on AFP measurements. So, I would order my imaging modality at the same time that I order my AFP screening. Having said that, if the AFP level is rising rapidly, or if somebody in the emergency room has an AFP level above 200 ng/mL, or even above 100 ng/mL, that should trigger some sense of urgency.
Speaker 4: Part of the problem with AFP screening is that it is sometimes regarded as a simple yes or no test. It provides a lot more useful information than a simple normal or abnormal reading. If you consider an AFP level above 20 ng/mL as suspicious for cancer, then you are going to scare a lot of people. In a large cohort study of hepatitis C cirrhotic patients, 1 of 6 subjects had elevated AFP levels, but none of them had a mass. Eventually, some of them may be found to have tumors. But about 1 in 6 hepatitis C cirrhotic patients will have elevated AFP levels, and many of those results are false positives. Again, a progressively rising AFP level would be of much greater concern. When every AFP measurement is 50% higher than the previous one, it is very worrisome. It is also possible for the AFP level to rise and then suddenly go down, with no tumor being found. So, by following the AFP alone, you will find many people to worry about and you won't always know what's going on. But there are some clear-cut worrisome patterns, such as the progressively rising AFP level, and one reason for measuring it every 3 months is to gain a better sense of the AFP pattern. In addition, the test is not very expensive.
Speaker 1: It is difficult to determine how frequently the AFP test should be repeated. Unfortunately, we have to rely on our judgment, such as deciding to repeat the test every 6 months. But, for instance, if an AFP level was measured at 40 ng/mL 6 months ago, and the current reading is 100 ng/mL, I may worry a bit and repeat the test in 2 or 3 months to look for a trend. If the third measurement is even higher, we would probably repeat the imaging study ahead of the routine 6-month exam. But I don't know if there are any guidelines or algorithms for repeat AFP testing.
Speaker 4: Somebody undertook the difficult task of putting together an algorithm for managing all these patients. It may not be possible to come up with an algorithm that fits every case, because each one is different. But, for patients whose AFP levels are high or rising, you will worry about them and will conduct more frequent imaging with the best tests available. The same is true for patients with spots on the liver. Whatever your standard surveillance mode, when the results are concerning, you look more often and you look closer. You still may not find everything, but that's what you should do.
Speaker 2: What is a "high" AFP level in your opinion?
Speaker 4: To me, "abnormal" is 20 ng/mL, "worrisome" is just when it is rising. I can't ignore a result of 20 ng/mL. If you find an abnormal AFP level, I believe you are obligated to order at least one CT scan or MRI beyond just a simple ultrasound. You may disagree, but I would certainly want at least one of those imaging tests to feel comfortable before I would settle into just continuing follow-up on that patient.
Speaker 2: Of course, one thing that can cause the AFP level to rise and fall is the degree of hepatic inflammation. Sometimes, when the transaminases are up, the AFP is up as well, and when transaminases are down, the AFP is down as well. Such a track record can provide reassurance as well.
Question 4: For patients with HCC and existing coagulopathy, are there specific interventions to reduce the risk of bleeding into rapidly growing lesions?
Speaker 3: I believe nothing could have been done for this patient to reduce the risk of bleeding into the tumor. Even though no autopsy was performed, his hemoglobin was falling progressively as he worsened clinically. There was bleeding into the tumor or into the peritoneum. All his coagulation factors were used up, and he either developed acute respiratory distress syndrome or bled diffusely into his lung.
Participant: Regarding follow-up on an abnormal AFP level, if a biopsy reveals stage II liver disease and not cirrhosis, but the patient has an AFP measurement of 20 ng/mL, what needs to be done? Would you repeat the AFP test in 3 months? Would you perform ultrasound screening? We already know he is not cirrhotic.
Speaker 2: Why would anybody measure AFP in a patient who doesn't have cirrhosis? An assessment of the population at risk must be made before any test is ordered. Only patients with hepatitis C cirrhosis are at increased risk of HCC and in need of testing with a screening modality.
Speaker 3: Unfortunately, many people mistakenly measure the AFP level automatically with the initial baseline workup. Of course, if the AFP is not elevated, no further action is taken. But, if there is a concern, then they proceed with the imaging study.
Speaker 2: It would be best to not bother with measuring AFP in this patient or in any patient who is not cirrhotic. Hepatitis C patients will have inflammation that causes the AFP test to be unreliable, with results that are all over the map. Thus, hepatic inflammation can occur without cirrhosis, which creates confusion with regard to AFP levels.
Speaker 4: As for the liver biopsy, with stage II and stage I, the situation is pretty clear-cut. But with patients who are in stage III and have elevated AFP levels, I would be a bit concerned because, as you know, the false-negative rate for biopsies is about 20% between stage III and stage IV. Depending on where you obtain the biopsy sample, you may not see complete nodules per se.
Speaker 2: That's a very good point. Some pathologists will not diagnose stage IV unless they see a completely encircled nodule.
Speaker 3: I agree. In fact, even with patients who are in stage II, we should keep in mind that they may have a greater extent of liver disease than the biopsy reveals. If a patient develops a low platelet count and so forth over the subsequent couple of years, it is important to bear in mind that a single liver biopsy doesn't provide a firm diagnosis and that there may be a sampling error. Thus, individualizing is very important.
Summary Points
In evaluating any patient with HCV, it is helpful to try to stage the liver disease because, if you learn that the patient has cirrhosis, you would consider performing HCC screening and varices screening.
If you have a reason to suspect cirrhosis, an ultrasound or CT scan may show typical and clear-cut changes of cirrhosis, and then you would not need a biopsy at all.
HCV patients who are not cirrhotic should not be screened for HCC and therefore do not need AFP testing at all.
Experts still disagree about the best way to screen for HCC and the desired frequency of testing. The minimum recommendation for frequency of HCC screening is once per year with ultrasound imaging. There is ongoing debate as to whether AFP measurement is helpful for surveillance in any way. Some guidelines no longer recommend use of AFP screening at all.
AFP screening has a low sensitivity and a low specificity as a test for HCC detection. Approximately 1 in 6 HCV patients with cirrhosis have an elevated AFP level.
There is dispute over how to follow up on elevated AFP levels. For levels that are only moderately elevated, some experts repeat the AFP test approximately every 3 months to monitor the trend, because AFP levels may rise and fall as a result of inflammation alone. Other experts order advanced imaging (CT scan or MRI) immediately following any sign of AFP elevation to look closely for a mass. For AFP levels that are significantly elevated, most experts agree there is a need to order advanced imaging right away.
There is debate among experts as to what is the best imaging technique for HCC screening. Though guidelines recommend ultrasound, some experts feel that ultrasound is not sensitive enough and is "operator dependent," so they use CT scans for surveillance. Other experts feel that CT scans are excessive in terms of cost and the amount of radiation to which patients are exposed, and therefore are not necessary for use as a screening tool.
Facilitators/Speakers
Ann Busch, Liver Transplant Clinical Nurse Specialist, Portland VAMC
Sue Currie, Associate Director, HCRC, San Francisco VAMC
Guadalupe Garcia-Tsao, Director, HCRC, Connecticut VAMC
Douglas Heuman, Liver Transplant Program Director, Richmond VAMC
Alexander Monto, Director, HCRC, San Francisco VAMC
Roberta Ruimy, Manager, Liver/Kidney Transplant Programs, Portland VAMC
Brenda Salvas, Health System Specialist, Manager, Liver and Kidney Transplant Program, VA Transplant Program, VA Central Office, Washington, DC
Anna Sasaki, Staff Physician, Portland VAMC
Kristine Stick, Nurse Practitioner for Hepatology, San Francisco VAMC
Suchat Wongcharatrawee, Associate Director HCRC, Connecticut VAMC
Back to: Case Studies Home