for

Health Care Providers
Management of Hepatocellular Carcinoma (HCC)
Forward
The Veteran Health Administration's Hepatitis C Resource Center (HCRC) Program provides education, training, and clinically useful tools to assist providers within the U.S. Department of Veterans Affairs (VA) in providing the highest quality care for patients with chronic hepatitis C virus infection (HCV). The most lethal complication of HCV is hepatocellular carcinoma (HCC), which has an annual incidence of 3-5% in patients with cirrhosis. Over 2,000 patients with HCV in VA care in 2008 have been diagnosed with HCC, representing a 3-fold increase since 2001. The prognosis for patients with HCC is poor unless diagnosed early and treated definitively. Care of HCC is multidisciplinary, and involves screening of appropriate patients, timely diagnosis, and interaction between medical and appropriate surgical, interventional radiology, or even liver transplant services. In the next several years, many providers who have not previously cared for patients with this complication of HCV will be confronted by the challenges of managing HCC as it becomes more prevalent. This guide was produced to provide VA clinicians with current recommendations on screening and management of this condition. We welcome your feedback as we all work to provide the best care possible for Veterans.
David Ross, MD, PhD
Director, National Clinical Public Health Programs
Public Health Strategic Healthcare Group (13B)
Department of Veterans Affairs
Washington, DC
Introduction
The incidence of hepatocellular carcinoma (HCC) is rising in the United States, and many new cases are being diagnosed and managed within the Department of Veterans Affairs system each year (1; 2). The care of patients with HCC involves a multidisciplinary approach. Primary care providers and healthcare providers working in liver clinics should be aware of which patients are at elevated risk for developing HCC, and should assist in instituting HCC surveillance. When abnormal screening results are found, timely consultation with a hepatologist or other provider familiar with diagnosis and treatment of HCC should be obtained. Hepatologists consult with multiple services including medical oncology, radiology, and surgery to determine the appropriate management of patients with HCC, which may include liver transplant. The FDA has recently approved an oral chemotherapy, sorafenib, which represents a new therapeutic option for unresectable HCC. Therefore, it is important that the providers of healthcare to patients with cirrhosis are knowledgeable about surveillance, diagnosis, staging, and treatment of HCC.
Management of HCC, summarized below, is based on detailed guidelines prepared by the American Association for the Study of Liver Disease (AASLD) (3). While the current document should not be viewed as official VA guidelines, the information contained herein represents an up-to-date review that is meant to offer assistance to providers caring for Veterans who are at risk for, or who have, HCC.
Key Points
It is critically important that practitioners learn to recognize cirrhosis. Low platelet count, AST/ALT ratio >1, splenomegaly, and any abnormality in bilirubin, INR, or albumin can be important clues
Patients with cirrhosis should undergo surveillance testing with liver ultrasound and AFP at 6-12 month intervals. Dynamic contrast CT or MRI may substitute for ultrasound, and are especially useful in characterizing abnormalities found on ultrasound
When a liver mass suspicious for HCC is identified, expert consultation should be sought. Biopsy may or may not be needed. A negative biopsy does not rule out HCC, and in many cases a diagnosis of HCC can be made without a biopsy
This document contains information on HCC management. VA Liver Transplant programs, Hepatitis C Resource Centers (HCRC), and other VA programs can be a useful resource to advise in managing difficult cases
Surveillance
Clinical surveillance is defined as the repeated application of a screening test. Screening programs are generally considered appropriate if they both improve patient survival and are cost-effective; recent data suggest that HCC screening meets these criteria within at-risk populations (4; 5). Specifically, HCC surveillance has been found to be cost-effective if the incidence of HCC within a population is more than 1.5% per year (6), and among patients with cirrhosis, the incidence of HCC is 3-5% per year. Patients for whom surveillance is recommended are shown in Table 1 (3). Of particular relevance to patients receiving care in the VA healthcare system, patients with cirrhosis due to alcohol and/or hepatitis C infection, or specific non-cirrhotic patients with chronic hepatitis B infection, should undergo HCC surveillance. The decision to pursue surveillance in an individual patient should also be made in the context of other co-morbid medical conditions that may limit the patient's life expectancy.
The recommended method for HCC surveillance is a combination of serum alpha-fetoprotein (AFP) and a liver ultrasound, typically repeated every 6 to 12 months. The time interval is based on the average doubling time of these tumors. This surveillance approach has been shown to improve survival (3-5).
Table 1: Patients in Whom HCC Surveillance is Recommended
Patients with chronic hepatitis B
Asian males >40 years
Asian females >50 years
All cirrhotic hepatitis B carriers
Family history of HCC
Africans over age 20
For non-cirrhotic hepatitis B carriers not listed above, the risk of HCC varies depending on the severity of the underlying liver disease, and current and past hepatic inflammatory activity. Patients with high HBV DNA concentrations and those with ongoing hepatic inflammatory activity remain at risk of HCC.
Non-hepatitis B cirrhosis
Hepatitis C
Alcohol cirrhosis
Genetic hemochromatosis
Primary biliary cirrhosis
Although the following groups have an increased risk of HCC, no recommendations for or against surveillance can be made because a lack of data precludes an assessment of whether surveillance would be beneficial.
Alpha1-antitrypsin deficiency
Non-alcoholic steatohepatitis
Autoimmune hepatitis
AFP: Only 50%-80% of HCCs produce AFP, so using AFP alone for screening will miss a significant proportion of patients with HCC (7; 8). The AFP value which is considered to be "abnormal" depends on whether AFP is being used as a surveillance test in the absence of a known focal mass lesion in the liver, or as a diagnostic test in a patient with a liver mass. At a cut-off value of 20 ng/mL, the sensitivity of AFP for detecting underlying HCC is only 60%, ie AFP will "miss" 40% of "true" tumors (7). The specificity of AFP at this value was found in one study to be 91%; ie, 9% of patients with AFP >20 ng/mL did not have HCC (9). The positive predictive value (ie, the likelihood that a positive test represents true disease) of AFP at >20 ng/mL, assuming a prevalence of HCC in the population of 5%, is only ~40%. At a cut-off value of 200 ng/mL, the sensitivity of AFP for underlying HCC is only 22% (7). A rising AFP level over time may be a more accurate measure of the presence of HCC. Due to the low sensitivity of AFP, surveillance using AFP alone is not considered adequate.
Ultrasound: The medical literature suggests that ultrasound can detect liver masses >1 cm in size with a sensitivity of 65-80%, and a specificity of 90% (10). One prospective, randomized trial found the sensitivity and specificity of ultrasound in the detection of HCC to be 78% and 71%, respectively (9). The performance characteristics of ultrasound in detecting HCC in a cirrhotic liver are reduced because the nodularity of cirrhotic livers makes differentiating malignant from benign lesions problematic. In such livers, any hepatic nodule over 1 cm should be considered suspicious for HCC. Good communication between providers about the purpose of the ultrasound and consistent quality control in obtaining and interpreting ultrasound images are important. Procedures should be in place for timely patient notification of test results. The ultrasound is the preferred radiologic test for HCC surveillance because of its low cost and lack of radiation, but is limited by its operator-dependent performance and interpretation. Clinicians should be aware that ultrasound is not a perfect test for surveillance for HCC, and should evolve strategies suited to their own practice setting for when to move to dynamic CT scan or MRI for more definitive imaging.
CT scan & MRI: CT and MRI scanning are alternative imaging tests for HCC surveillance, and are the modalities of choice for establishing a diagnosis of HCC. A multi-phase CT scan, with images of the liver obtained in pre-contrast, arterial, and portal venous phases, is more sensitive and specific for diagnosing HCC than an ultrasound (11). However, CT scans expose patients to significant radiation, as well as the risk of contrast allergy, nephrotoxicity, etc. Liver MRI with intravenous gadolinium is also a highly sensitive imaging test for HCC, but is not available in all medical centers, and has been associated with a rare complication among patients with renal insufficiency (creatinine clearance <60 mL/min.), nephrogenic fibrosing dermopathy (12). Multiphase CT and MRI are more sensitive imaging tests than ultrasound for HCC surveillance, but data are not yet available to determine whether their increased cost, risks, and benefits justify their use in this setting.
Diagnosis
Arriving at a diagnosis of HCC can be a difficult task for the clinician. AFP has a high positive predictive value for HCC at a level >200 ng/mL in a patient with a focal mass lesion (7). Figure 1 is a recommended approach to the diagnosis of HCC in a patient found to have a liver mass on ultrasound. If the mass is <1 cm, intensive surveillance with ultrasounds every 3-4 months is recommended, and if stable after a period of time (1-2 years), routine surveillance can be resumed. Patients with masses between 1-2 cm should have two dynamic imaging studies such as CT and MRI, while patients with masses >2 cm require only a single characteristic dynamic imaging study, and then follow-up as indicated in the algorithm. Absence of a "typical vascular pattern" of enhancement of the mass, ie arterial enhancement and portal venous washout on CT or MRI, may require imaging-guided biopsy of the mass, although individual practice may vary, and multidisciplinary discussions about the appropriate center-specific approach are encouraged.
Figure 1: Chart for Management of a Liver Mass Seen on Ultrasound
Mass < 1 cm
Diagnosis
Low likelihood of being HCC, therefore no specific diagnostic tests
Follow-up

Repeat imaging study every 3 months

If no growth in 1-2 years -> no HCC
If growth, treat as HCC

Mass 1-2 cm
Diagnosis
2 dynamic imaging studies (CT scan, or MRI)
Both w/ typical vascular pattern
Treat as HCC
One typical & the other atypical
Consider biopsy of mass
Both atypical
Consider biopsy of mass vs. close follow-up
Follow-up after biopsy
Biopsy confirms HCC
Treat as HCC
Non-diagnostic

Repeat imaging study every 3 months:

If no growth in 1-2 years -> no HCC
If growth, treat as HCC

Mass > 2 cm
Diagnosis
1 dynamic imaging study (CT scan, or MRI)
Typical vascular pattern
Treat as HCC
Atypical vascular pattern
Biopsy of mass
Follow-up after biopsy
Biopsy confirms HCC
Treat as HCC
Non-diagnostic

Repeat imaging study every 3 months:

If no growth in 1-2 years -> no HCC
If growth, treat as HCC
Imaging-guided biopsy of HCC carries a small risk of bleeding or of tumor seeding along the biopsy tract, so local expertise in deciding the appropriate approach to targeted biopsy is important. A tissue diagnosis of HCC is not required for a patient to receive MELD exception points for HCC at the time of transplant referral, although this may be required by some oncologists prior to consideration of chemotherapy. Biopsies of HCC's may return negative or nondiagnostic, so clinicians should not be reassured by a "negative" biopsy of a liver mass in a patient at risk for HCC, and should continue close monitoring and management of the mass.
Staging
Several systems for HCC staging are currently used. The Barcelona Clinic Liver Cancer (BCLC) system is the most commonly used HCC staging system (slightly modified as Figure 2). It has advantages over other systems in that it incorporates tumor stage, liver function, patient physical status, and cancer-related symptoms, all of which appear to impact prognosis and treatment approach (13). Other staging systems include the Cancer of the Liver Italian Program (CLIP)(14) and Okuda (15).
Staging systems are important in considering treatment options, but the most important issue once an HCC diagnosis has been made is timely referral to an appropriate provider for management. The following characteristics are included in staging an HCC:
a. Tumor Staging:
American Liver Tumor Study Group, Modified Tumor-Node-Metastasis (TNM) Staging
T0: Tumor not found
T1: 1 nodule < 2 cm
T2: 1 nodule 2-5 cm ; 2 or 3 nodules, all < 3 cm
T3: 1 nodule > 5 cm; 2 or 3 nodules, at least one > 3 cm
T4a: 4 or more nodules any size
T4b: T2, T3, or T4a plus gross intrahepatic portal or hepatic vein involvement as indicated by CT, MRI, or ultrasound
N1: Regional (porta hepatis) nodes involved
M1: Metastatic disease, including extrahepatic portal or hepatic vein involvement
b. Liver Function/Liver Disease Severity:
i. Child-Pugh score--based on albumin, ascites, bilirubin, encephalopathy, and prothrombin time/INR categorized as A, B, or C.
ii. MELD Score--the MELD score has been validated to predict survival in cirrhotic patients. It is calculated from a patient's serum bilirubin, creatinine, and INR values. Generally, the UNOS MELD calculator should be employed for calculating a patient's score (www.unos.org, under Tools menu, MELD/PELD calculator).
c. Performance Status:
World Health Organization Performance Status stages:
Stage 0: Fully active, normal life, no symptoms
Stage 1: Minor symptoms, able to do light activity
Stage 2: Ambulatory and capable of all self-care but unable to carry out any work activities. Up and about more than 50% of waking hours
Stage 3: Capable of only limited self-care, confined to bed or chair more than 50% of waking hours
Stage 4: Cannot carry on any self-care. Totally confined to bed or chair
Figure 2. Modified BCLC HCC Staging / Therapy System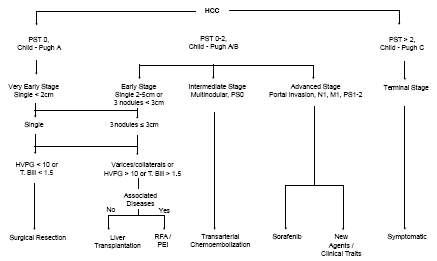 Treatment
Many forms of treatment are available for HCC. The specific treatment chosen will depend upon patient need, tempered by local or regional availability and expertise. Treating disciplines include surgery, interventional radiology, oncology, and liver transplantation. Less than 50% of patients with HCC in the U.S. currently receive specific treatment because of age, liver function, general medical condition, or patient refusal.
For patients with cirrhosis who develop a solitary HCC (<5 cm) or early multifocal disease (up to 3 lesions, each <3 cm) without extrahepatic disease or vascular invasion, liver transplantation has demonstrated a marked survival benefit. A 5-year survival of 70% is considered a benchmark for this therapy (3). Two other therapies associated with a high complete response rate include surgical resection and percutaneous ablation. Transarterial chemoembolization (TACE) is a non-curative therapy that has been shown to improve survival in subjects with compensated cirrhosis and advanced tumor stage (16; 17). Other modalities, such as transarterial embolization without chemotherapy or internal radiation have some antitumoral effect, but have not been shown to improve survival. Systemic chemotherapy with sorafenib is now considered for patients with advanced tumor stage.
Surgical Resection: Surgical resection is the treatment of choice for HCC in non-cirrhotic patients. In patients with cirrhosis, those with a normal serum bilirubin and without portal hypertension (no varices, portal pressure <10 mmHg) can tolerate resection and have a 5-year survival >70% (18). However, less than 20% of HCC patients diagnosed in the U.S. are good candidates for surgical resection. Most surgeons restrict surgical resection to patients with a single tumor in a suitable anatomic location for resection. Chemoembolization, portal vein embolization, or other pre- or post-resection adjuvant therapies have not been found to improve outcomes of surgical resection.
After resection, tumor recurrence rates exceed 70% at 5 years. Treatment of such recurrence has not been extensively evaluated, but any of the following treatment modalities described can be considered.
Liver Transplantation: Liver transplantation is indicated for healthy patients who are candidates for transplant and who have localized HCC, but are not candidates for surgical resection. Based on the "Milan criteria" any patient with a solitary tumor <5 cm in diameter, or up to 3 lesions, each <3 cm in diameter, without evidence of vascular invasion or extrahepatic spread, may be eligible for transplantation (19). Patients with HCC within these criteria have post-transplant survival rates of 70% at 5 years.
In the United States, transplant-eligible patients who meet Milan criteria for HCC are given an initial MELD score of 22, with a 10% point increase for every three months on the waiting list. Many patients also undergo HCC therapy as a "bridge" to transplantation, although in the absence of data from randomized, controlled trials, firm recommendations about the value of such therapy cannot be made. Specific HCC treatments prior to liver transplant include: radiofrequency ablation, percutaneous ethanol injection, chemoembolization and yttrium-90 radioactive glass beads. Consultation with a transplant center is strongly advised in this setting. In some cases, transplantation of patients with HCC which was "outside" the Milan criteria has been performed after ablative therapies were used to "downstage" or shrink tumors to smaller size, although this practice remains controversial and is not widely accepted.
Living donor liver transplantation, where available, may be an important alternative to cadaveric transplantation for patients with HCC, although available evidence does not support any expansion of size limits on tumors when this technique is applied.
Percutaneous Ethanol Injection: Percutaneous injection of high-concentration ethanol directly into HCCs is a palliative form of therapy. It is most effective for smaller HCCs and is performed by percutaneous or intraoperative injection of ethanol into the tumor under radiological guidance. The therapeutic response to percutaneous ethanol injection (PEI) is often evaluated by CT examination before the procedure, 1 month after the procedure, and then every 3-6 months. Absence of contrast uptake within the tumor tends to reflect necrosis, whereas persistent uptake indicates treatment failure. Ethanol injection achieves necrosis in 90-100% of HCC smaller than 2 cm, 70% in tumors 2-3 cm, and approximately 50% of tumors 3-5 cm. Recurrence rates after PEI are as high as after resection. The overall 5-year survival in patients with compensated cirrhosis treated with PEI for lesions <5 cm in diameter has been found to be comparable to the 50% 5-year survival rate observed in patients who underwent surgical resection.
Radiofrequency Ablation: Radiofrequency ablation (RFA) is another localized form of HCC therapy, usually performed under ultrasound guidance. With RFA, an alternating electrical current causes thermal injury around a needle electrode that is inserted into the tumor. The goal of treatment is to ablate the tumor and a small margin of non-cancerous tissue around the tumor. One study of RFA was performed in 39 patients with 1 or more HCC tumor nodules <3 cm in diameter that were treated with intent to cure. Approximately 50% of the patients had tumor recurrence during follow-up. The 1-year and 3-year survival rates for patients treated with RFA were 95% and 67%, respectively. Randomized, controlled trials have shown that RFA provides better local disease control than PEI in tumors >2 cm in size. However, RFA is often a more expensive and complex procedure than PEI, and may be associated with a higher rate of adverse events such as pleural effusions and peritoneal bleeding.
Transarterial Chemoembolization: Transarterial chemoembolization (TACE) is a combination of targeted chemotherapy (chemotherapeutic agents delivered via hepatic arterial infusion through a catheter directly into an HCC) and arterial embolization (selective obstruction of blood, which causes necrosis of the tumor). Fewer than 2% of patients achieve a complete response with TACE, and therefore TACE is considered a first-line non-curative therapy for patients who are not surgical candidates, and who do not have extrahepatic spread. Tumor size is the most important predictor of the efficacy of therapy. Two randomized controlled trials have demonstrated improved survival in patients with compensated cirrhosis undergoing chemoembolization for advanced HCC (16; 17). Meta-analysis of such trials support a significant survival benefit of chemoembolization compared to no therapy in this setting. Contraindications for TACE include advanced (Child-Pugh Class C) cirrhosis, portal vein thrombosis, hepatic encephalopathy, and biliary obstruction. The "post-embolization syndrome" occurs in many patients due to acute hepatic ischemia caused by arterial obstruction and tumor necrosis. This is characterized by fevers, abdominal pain, and ileus, which is generally self-limited within 48 hours, but can be treated with fasting and IV hydration. Major complications from TACE include portal vein thrombosis, hepatic abscess, hepatic artery dissection or thrombosis, and liver failure.
Systemic Chemotherapy: Sorafenib (Nexavar®) is a multitargeted tyrosine kinase receptor inhibitor that impairs tumor angiogenesis. Sorafenib is an oral chemotherapy that has been FDA-approved for treatment of patients with unresectable HCC. Data supporting its use come from Phase 3 studies of sorafenib (400 mg bid) versus placebo (20). The majority of patients receiving sorafenib had advanced disease (38% with macroscopic vascular invasion, 51% with extrahepatic spread), although most had preserved hepatic function (97% Child-Pugh Class A). There was a significant improvement in survival in the sorafenib group (median survival of 10.7 vs. 7.9 months for placebo). Time of radiological progression was also delayed in the sorafenib versus the control group (median of 5.5 vs. 2.8 months). Significant side effects which were more common with sorafenib than placebo included diarrhea (8% with sorafenib), hand-foot skin reaction (8%), hypophosphatemia (11%), and marked thrombocytopenia (4%). Precautions of therapy include cardiac ischemia, bleeding and hypertension. Since sorafenib is predominantly metabolized by the liver, it should not be given to patients with Child-Pugh Class C cirrhosis. Safety and efficacy of sorafenib in Child-Pugh Class B cirrhotics remains under-studied, and sorafenib has not been studied in patients who have received a liver transplant. Sorafenib represents an important drug for treatment of unresectable HCC in Child-Pugh Class A cirrhotics, and should be administered in consultation with oncologists or a multidisciplinary liver tumor board with expertise in its use.
Other medical treatments for HCC that have not been shown to improve survival include octreotide, interferon, external radiation, antiandrogenic therapy, and other systemic chemotherapy regimens. Information about current clinical trials for the treatment of hepatocellular carcinoma can be found at www.clinicaltrials.gov

.
References
Contributors
VA National Clinical Public Health Program of the Public Health Strategic Healthcare Group (PHSHG): David Ross,MD,PhD (Director, National Clinical Public Health Care Programs).
PHSHG: Ronald O. Valdiserri,MD,MPH (Chief Consultant), Janet Durfee,RN,MSN,APRN (Deputy Chief Consultant).
VA Hepatitis C Resource Center (HCRC) Hepatocellular Carcinoma Working Group: Alexander Monto,MD, Ronald O. Valdiserri,MD,MPH, Joseph Lim,MD, Timothy R. Morgan,MD, Michael Chapko,PhD.
HCRC Directors: Alexander Monto,MD, Guadalupe Garcia-Tsao,MD, Jason Dominitz,MD,MHS, Erik Dieperink,MD, Christine Pocha,MD.
VA HCRC Collaborators: Douglas M. Heuman,MD, Joseph Awad,MD, Anna Sasaki,MD, Michael F. Chang,MD.