for

Health Care Providers
Archived
You are viewing outdated content. This information may no longer be accurate or relevant and is provided for research or recordkeeping purposes only.
State of Care for Veterans with Chronic
Hepatitis C
Chapter 5 - Antiviral Therapy for Chronic HCV
The current standard of pharmacologic treatment of chronic HCV, which received Food and Drug Administration (FDA) approval in 2001, consists of weekly subcutaneous pegylated interferon injections in combination with daily oral ribavirin. This therapy is typically completed in 24 to 48 weeks, although shorter or longer durations are sometimes indicated. The duration of therapy is determined by the HCV genotype and, increasingly, by the patient's virologic response during therapy. Infections due to genotype 1 HCV strains (the most common genotype among Veterans with chronic HCV in VHA care) require longer durations of therapy and are associated with lower response rates. In cases where poor adherence, lack of tolerance, or early treatment failure is detected, Veterans may not complete a full treatment course. Therapy may need to be repeated in cases of virologic failure after treatment discontinuation or in the rare occurrence of re-infection with HCV.
Historically, the FDA-approved treatment options for chronic HCV have included interferon monotherapy, interferon plus ribavirin, pegylated interferon monotherapy, consensus interferon, and the current combination of pegylated interferon plus ribavirin. All FDA-approved alfa-interferon products, including pegylated interferon products, and ribavirin have been included on the national VHA formulary and are currently available to Veterans with chronic HCV. Figure 10 shows the cumulative use of these agents between 2000 and 2008.
Figure 10: Cumulative Number of Veterans with Chronic HCV with HCV Antivirals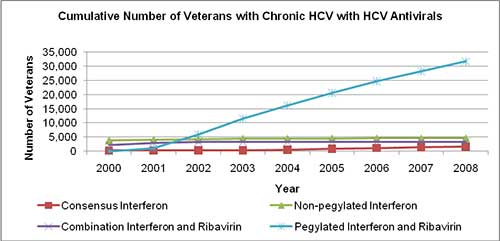 Through the end of 2008, over 31,500 Veterans with chronic HCV had received at least one course of HCV treatment at VHA, including 21% of those in VHA care in 2008 (Figure 11). The number of those in VHA care who received their first ever HCV antiviral treatment regimen increased 2.5-fold from 1,367 in 2000 to 3,393 in 2008. The same magnitude of increase was seen in overall caseload on therapy, which increased from 2,402 in 2000 to 6,325 in 2008.
Figure 11: Number and Percent of Veterans with Chronic HCV in VHA Care Treated with HCV Antivirals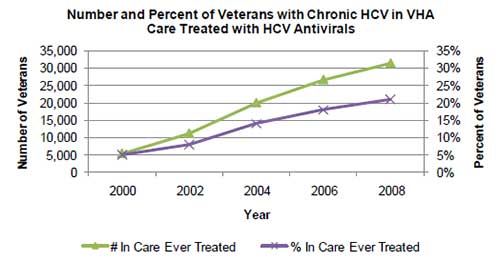 Across VISNs, the percentage of Veterans with chronic HCV who ever received HCV antiviral therapy ranged from 16% to 31% (Table 5). Some Veterans with chronic HCV may not be candidates for antiviral treatment. Though general guidelines exist on treatment considerations for HCV infected patients, most treatment decisions continue to be individualized. (5.1, 5.2) Factors which may prevent Veterans from receiving HCV antiviral therapy include low blood cell counts, advanced cirrhosis, or the presence of certain medical conditions or mental health conditions, including ongoing substance abuse. Alternatively, because response rates to the currently available treatments are less than ideal (see Chapter 6) and because the medications are poorly tolerated, clinicians and patients may postpone treatment until newer, more effective agents become available. Newer agents for the treatment of HCV that significantly increase response rates are expected to become available in 2011 and will likely be used in combination with pegylated interferon and ribavirin. PHSHG is exploring various models of care delivery in anticipation of the increased demand for newer HCV antiviral treatments.
Table 5. Number of Veterans with Chronic HCV in VHA care in 2008, the Number Receiving HCV Antivirals in 2008, and the Number that Ever Received HCV Antivirals from VHA by VISN
Number in Care
Number Receiving HCV Antivirals In 2008
Number Ever Receiving HCV Antivirals from VHA
Nation
147,352
6,325
31,541
VISN (number)
VA New England Healthcare System (1)
5,126
315
1,589
VA Healthcare Network Upstate New York (2)
2,480
115
556
VA NY/NJ Veterans Healthcare Network (3)
6,952
224
1,228
VA Healthcare (4)
7,745
404
1,762
VA Capitol Health Care Network (5)
6,281
269
1,160
VA Mid-Atlantic Health Care Network (6)
8,164
422
1,839
VA Southeast Network (7)
9,583
344
1,634
VA Sunshine Healthcare Network (8)
13,392
517
3,289
VA Mid South Healthcare Network (9)
6,933
287
1,584
VA Healthcare System of Ohio (10)
5,170
223
1,105
Veterans in Partnership (11)
7,003
261
1,358
VA Great Lakes Health Care System (12)
5,913
190
1,326
VA Heartland Network (15)
5,384
225
1,397
South Central VA Health Care Network (16)
14,019
596
2,977
VA Heart of Texas Health Care Network (17)
6,313
278
1,304
VA Southwest Health Care Network (18)
6,703
317
1,657
Rocky Mountain Network (19)
4,046
131
773
Northwest Network (20)
8,607
353
1,508
Sierra Pacific Network (21)
8,670
486
1,963
Desert Pacific Healthcare Network (22)
10,899
472
1,690
VA Midwest Health Care Network (23)
4,235
183
1,200
Table 5 also shows the number and percent of Veterans with chronic HCV in VHA care by VISN who received antiviral therapy in 2008. Regardless of HCV caseload, in each VISN close to 4% of Veterans with chronic HCV were on antiviral therapy that year. In 2007, PHSHG led a survey of local healthcare system HCV providers that included questions to assess local antiviral treatment management. Findings from this VA-wide survey of HCV clinicians indicate that multiple issues related to patient characteristics (e.g., ongoing substance abuse), clinician and facility factors (e.g., staff turnover) may influence the numbers of patients on antiviral therapy. Information learned from this survey has and will be incorporated into educational and training initiatives that include expanding antiviral therapy where indicated and appropriate. Engaging and maintaining Veterans in HCV care and discussing available treatment options, including risks versus benefits, remain important objectives within VHA.
Methods
HCV antiviral therapy - All FDA approved medications are included in this report. Medication use is reported from the VHA outpatient prescription files.
References
Yee HS, Currie SL, Darling JM, Wright TL. Management and treatment of hepatitis C viral infection: recommendations from the Department of Veterans Affairs Hepatitis C Resource Center program and the National Hepatitis C Program office. Am J Gastro 2006; 101:2360-2378.