Educational Resources
Products are sorted alphabetically within each category.
Patient Education (Videos)

This 4-minute video provides information about alcohol and liver disease.
Veterans share their stories of getting tested and treated for hepatitis C, and cured.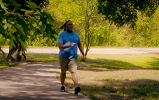 This 1-minute video features a Veteran talking about NAFLD.
Provider Education (Toolkits, Videos, Classes)

A web-based course, tailored to mid-level providers, designed to provide a practical approach to the evaluation of abnormal liver chemistries in the context of a broad understanding of the pathophysiology of liver injury.

A primer for conceptualizing the structure and purpose of a support group. Provides rationale, development process, sample documents, and resources.

This 8-minute video provides an example for discussing weight loss with patients who have NAFLD. Companion pocket guide also available.
Guidelines and Recommendations

This revision (March 18, 2021) incorporates updates to treatment regimens for chronic hepatitis C virus infection.

Algorithm for hepatitis C virus antibody screening.